Graphic Design Portfolio
Graphics on this page may take some time to load.
Steve provides quality work at a very reasonable price, and he is open to new ideas and questions throughout the project. I really like his work.
This graphic design portfolio includes more than just a few examples of recent work. I've even dug into the archives to show graphic design samples that were done by hand before I used computers, and before I started this company. The intent here is to show both a diversity of style, and to highlight a wide range of experience. This also illustrates the eye-catching, yet simple approach often needed for high quality graphic design.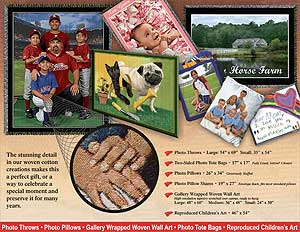 Click on image above for PDF enlargement
Tri-fold flyers are very popular for good reason. They can be easily mailed, handed out, and displayed. They provide an economical means to promote, and they work very well if designed correctly. The flyer shown above illustrates how any photo or artwork can be woven into a keepsake. This version was created for dealers to promote the service, and add their information to the back cover.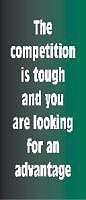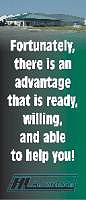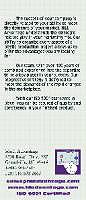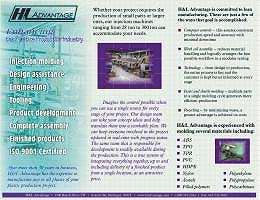 Click on any picture for enlargement
The flyer design above goes far beyond harmonizing with the look of the web site I designed for H&L Advantage. One of the most common errors made in designing a flyer is proudly making the company logo a prominent feature on the cover. Unfortunately, the only person who cares about the logo is the person who designed it and/or paid to have it designed. You need a cover design that makes someone want to know what is says inside or it may never get opened.
This flyer uses a "soft sell" approach because a corporate flyer like this rarely makes someone rush out to hire a manufacturing company. What it does do is make them desire more information so the expertise of H&L Advantage can close the sale. The H&L web site has a special version of this flyer on their Information page designed for downloading and printing. This helps H&L reduce mailing and printing costs, so they get a lot more value from the design.
The example below, circa 2005, is now old enough to be considered archive, but it showcases freehand art merged with technology in two primary ways. First, the use of graphics software for most of the greeting card designs and freehand graphics incorporated into some of them. Second, if you can view it, is the use of custom Flash animation to provide an interactive viewer for the designs.
The wording for these cards was provided by the client. I was given artistic freedom to create the cover designs and choose the appropriate font styles. Be sure to browse the collections as there are different design styles used for variety.
If you are unable to see the Flash presentation above, or it doesn't function correctly, you're only missing the fancier viewer. The links below use a more conventional approach so you can still view the greeting card designs.
Christmas Card Collection All Occasion Card Collection
Steve, you never cease to amaze me. I just printed the All Occasion brochure on glossy brochure paper. WOW you did a wonderful job!!!!!!!!!!!!!!!!!! I praise God for blessing you with so much talent! You've touched my heart every time you make something in my head come alive.
Client testimonial --
Juanicki McAndrews
Due Season WORD


I do most of my artwork on the computer now, but the two logo designs above are from my archive to demonstrate authentic graphic design work that was hand drawn on a real drawing board (Yes, I still have these classic design tools for when I occasionally need them). I have always favored simple two or three color designs for a logo. I believe the classic rules for logo design are still best, even though they are often challenged and violated now. Well designed logos look good at any size, and they can be easily reproduced in any medium.

A newer example of simple, two color graphic design would be the redesigned Creative Business Services logo. The idea was to communicate "creative" through the use of brush stroke while suggesting a business graph without being too typical. Having spent years branding the "cbscreative" as well, that is also emphasized in this redesign.

The Makela Fence logo further demonstrates that classic two color logo designs still offer a lot of creative potential. This stands out among fence companies by using a perspective look instead of a symmetrical design like most fencing contractors use. Makela Fence specializes in the carpentry and craftsmanship of wood, and this logo design helps communicate that distinction.
Steve's attention to detail is exemplary, he listened to my needs, and provided prompt feedback to all my questions. I have had many compliments from other people on Steve's designs, and I plan to use Creative Business Services for all of my future graphic design work.
Client testimonial --
David Makela
Makela Fence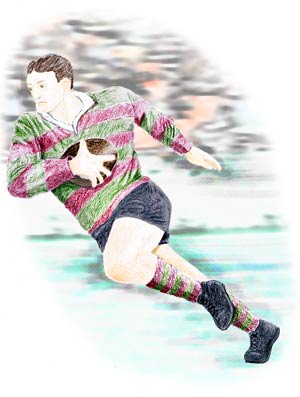 The example above shows the melding of art with technology. This client was paying tribute to his ancestor, a founding member of an Australian rugby team. Since photographs were limited, artwork was required to create this circa 1908 image. I commissioned my very talented daughter to create the color pencil sketches, then used digital imaging to fine tune the finished artwork.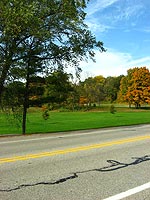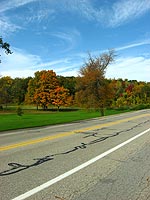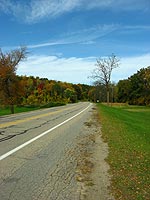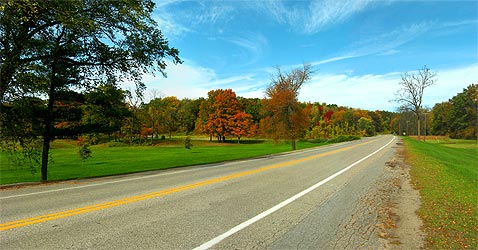 Not every picture starts out perfect, but problems can be fixed through photo editing. The example above is a fall color scene taken in three segments. Not only are the colors dulled from the pictures being being too dark, there are some unsightly tar lines in the road that detract from the image. All three images were combined and corrected for a wide angle view, the vibrancy of the colors was brought to life, and the finished image was edited to draw the eye to the beauty of this fall color scene.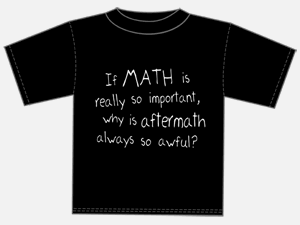 Click on this picture for enlargement
Although I no longer officially work for a "T-shirt" company, I still have plenty of creative ideas. The above is one of my concept tee shirts. If this goes into production, I will note that here. Otherwise, if you happen to see it somewhere else, it means someone stole the idea without permission.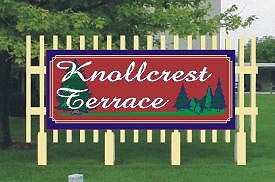 The years I spent as a sign maker allowed this client to have more value for their money. The framework was pre-existing and needed only fresh paint. The sign was simple to produce, but the design makes it look more upscale. Because this was for a condominium complex, it needed to be bold without exceeding the conservative preferences of the residents. The colors are rich and attention-getting, but not trendy.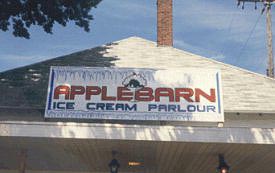 Here is an example of early sign work which was designed and produced the old fashioned way—using freehand artwork. By incorporating a sundae into the center, it instantly says "ice cream" before it suggests apples. The icicles on the top and bottom border serve to reinforce the idea of a cool, refreshing chill on a hot summer day.
The interesting thing about sign design is that you have to communicate a visual message to an audience that passes by quickly. Having an artist who understands what you need to accomplish is a good test of graphic design expertise.
More Than Just Graphic Design Experience
Production Experience Yields Better Graphic Design
It's important that I have worked in the trenches and not just at the drawing board. This provides a unique understanding of graphic design not shared by every graphic designer. I understand real world variables, such as how the choice of colors will endure the environment they are being required to withstand.
Because I understand the entire process, my company can streamline your costs and avoid mistakes, or expenses, that otherwise might happen. Distance is no problem either, because I have shared graphics files over the Internet for thousands of production jobs where I could not be physically present to control the output.
This solves other problems for you. There are some very creative people who do not understand production. After you pay them to design, you may pay again to have a production artist make corrections. Otherwise, you rely on a production artist who can create trouble free art, but they have less time for creativity, and they rarely understand your business needs.
When you contact us for your next graphic design project, we will provide both experience and creativity. Best of all, we take the time to understand your needs, we design to increase your profits, and we will still be here the next time you need us. The turnover rate for production artists usually runs quite high.