Steve Chittenden
Bio and Writing Portfolio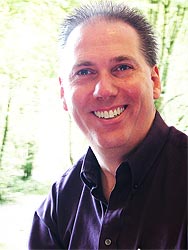 My love of writing is accompanied by first hand experience running businesses since 1986 when I started my first company doing signs and graphics. Having spent the years since that time in some form of promotions has yielded an understanding of both operating and promoting a business.
I actually didn't begin practicing professional writing until starting this company in 2002. Until then, I only focused on graphic design, learned selling and people skills, and took an interest in web design in the 1990's not too long after it was birthed. I was told I was a good writer, it just wasn't something I pursued professionally.
While taking university classes beginning in 2001 to sharpen my skills, the confirmation came in taking writing courses at the university level. I not only found the classes naturally enjoyable, the fact that I found the classes easy, combined with the feedback I had from instructors, revealed that my writing skill was better than I thought. The classes gave me the opportunity to enhance that skill even further.
Although my interests are diverse and I can write on a wide variety of topics and purposes, the one I've found the most useful is helping small business owners communicate with their customers and potential customers to strengthen their business. I enjoy the accomplishment gathering information from clients and translating that into an effective presentation.
As you review samples of my writing, I trust you will sense the enthusiasm I have for writing. I've chosen samples that span several years and topics so you can see the difference between earlier and more recent skill levels, as well as variation in style and purpose. I enjoy challenges that spur constant improvement and variety to avoid falling into a rut.
Writing Examples:
The samples below, except those marked with an asterisk (*) because they are on this site, will open in their own new window or tab so you can close them to return to this page.
4 Words Your Web Site Should Never Use (2009)
Award Winning Disaster (2007)
The Big Advantages of Small Business (2007)
I was honored to be invited as an author for the Evan Carmichael business web site. Feel free to view my business marketing articles published there.
More recently in 2013, I was invited to share my marketing expertise, particularly in the context of home remodeling, on Remodel Zone. The articles/posts published demonstrate writing to simplify the topic for a very specific audience that often struggle with it in their business.
Most of my writing is part of another project, like web sites that have my own content writing, or flyers, sales letters, proposals, etc. Since I am frequently getting plagiarized, I even have endorsements I never wanted. You may want to read my Ripped Off and Flattered article (2005).
Beginning in 2009, the first web site redesign for Breyer Construction involved using the existing content and discussions with the owner to provide a total revamp of the writing for the site in addition to a new look. Most of the writing on the site is my own so it serves as a writing portfolio as well as a design portfolio. The current site design is a second redesign for 2013 and involved a lot of new and further revised content.
You may notice under Graphic Design on the right that a series of CorelDRAW articles* is featured. CorelDRAW is largely unappreciated in the graphic design industry, a sentiment I do not share even though I use the "expensive" software extensively. The articles being featured originally date back to 2007 (but regularly updated), and even though the current CorelDRAW X6 is three versions higher than the articles were written for, the differences are marginal, making the articles still very useful and relevant.
For the time being, I'm still retaining the original 2002 CorelDRAW articles* written for version 9 and kept updated until 2007. The information is still in demand for users of older versions and it also shows a difference in writing for the same product. When originally written, the first four articles were published on a web site for freelance graphic artists.
And to be sure it's clear, this entire web site is my own writing except for the other writer's bio pages and samples clearly marked as being another author. In essence, this site serves as a self contained portfolio for web design, some graphic design, and a lot of writing.